Why Jurassic World Dominion Often Uses Animatronics Over CGI
Jurassic World Dominion director, Colin Trevorrow, explained that the film utilized more animatronics because the actors could interact with them. Jurassic World Dominion premiered on June 10, 2022, and marks the third and final film in the Jurassic World trilogy. The Jurassic World trilogy first kicked-off in 2015 and marked the long-awaited sequel to the Jurassic Park trilogy, which concluded in 2001. Jurassic World follows what seems be the fruition of John Hammond's dream for a dinosaur theme park. However, the dinosaurs escape their enclosures and wreak havoc, fulfilling everyone's worst fears about the park in the first place.
In the sequel, Jurassic World: Fallen Kingdom, the dinosaurs' home on the Isla Nublar is destroyed, leading them to be set free to co-exist with humanity. Jurassic World Dominion takes place four years into the co-existence and explores this shaky arrangement and whether it can prevail. So far, the film has received mixed-to-negative reviews, with many believing the franchise has run its course. However, while the script and storytelling might not have been that well-received, Dominion's special effects and visuals of the dinosaurs are still a spectacle worth seeing.
In an interview with THR, Trevorrow explained why Jurassic World Dominion chose to use animatronics over CGI. Trevorrow explained they build the animatronics for scenes in which the dinosaurs aren't running or fighting. Hence, they are built for scenes such as the Giganotosaurus, which is seen slowly stalking the characters in the movie. The reason Trevorrow gives for using animatronics in scenes like this is because it allows the actors to interact with them, basically making it scene between two humans—albeit one where the other actor is communicating via a puppet. Check out his statement below:
"Yes. We build them for when they don't have to do something like run or fight. That's basically it. So they can be of all different sizes. We built the Giganotosaurus, which was stalking our characters slowly. That was a kind of sequence I really wanted to get back to that I'd done in the first film and that Jurassic Park had done well. And there are several sequences like that where you're just listening to characters breathe and there's an animatronic coming for them. We build them especially for a scene like the one with Laura [Dern] and the baby Nasutoceratops, which we also saw in Bryce Dallas Howard's first scene. Animatronics give them the ability to interact with it as if it's another actor because there's another performer behind it. It really is a human and a human communicating via a puppet, which is a beautiful kind of art."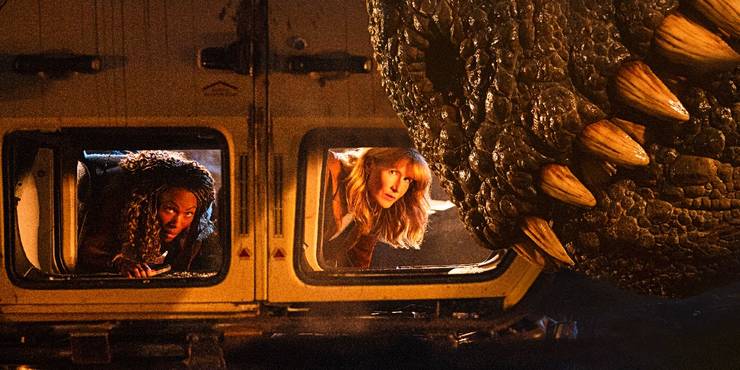 The decision to use animatronics over CGI in these instances certainly makes sense. When a dinosaur is wholly created by CGI, it limits the ability of the actor to interact with it closely. Meanwhile, when animatronics are used, it not only allows interaction, but it brings a human element to the filming. This makes scenes such as Laura Dern's with the baby Nasutoceratops especially emotional and powerful. Additionally, these animatronics are extremely impressive. They can range from very small to absolutely massive in size and bring an element of realness of the recreation of the dinosaurs on screen.
Ultimately, Jurassic World Dominion strikes a nice balance between animatronics and CGI. The decision to incorporate animatronics where necessary was an especially strong choice for this particular film. Now that the dinosaurs are loose in society, they are having much closer interactions with the humans than in the previous films. In the previous Jurassic World movies, we had the humans mostly hiding from the dinosaurs or viewing them from afar. Now, dinosaurs are flying alongside their planes, running alongside their bikes, or even slowly following and stalking them on their journeys. The storyline definitely requires a higher level of interaction between the actors and dinosaurs, thus, making the animatronics pretty necessary. Jurassic World Dominion demonstrates a strong strategy when it came to the trade-off between animatronics and CGI.